12 laser bar diodo Laser macchina 808nm per depilazione


Specifiche
808 diodo
macchina laser
Touch Screen LCD da 10,4"
rimozione dei capelli
Certificato CE
Specifiche:
Laser type

Diode laser

Laser wavelength

808 nm

Power

1500W

Density

10.4 inch color touch LCD screen

Spot size

10 * 12 mm2

Pulse width

10-1, 400 ms adjustable

Energy

1-120 J/cm2adjustable

Frequency

0.5~10Hz

Cooling

Water + air + Semiconductor

Temperature of probe

-2~3C

Working environment:

Environment temperature

5-400C

Relative humidity

<=80%

Atmospheric pressure

860hpa-1060hpa

Working Voltage

~220V+-10%, 50HZ

Transportation and store:

Environment temperature

- 20~60 C

Relative humidity

<=100%

Atmospheric pressure

500hpa-1060hpa

Size

59*64*113 cm

N. Weight

62kg

Voltage

220V (110V)/15A 50Hz (60Hz)

Packing

Wooden case Or Aliminium case
Teoria:
1. Depilazione laser successo si basa sul principio della fototermolisi selettiva. L'assorbimento preferenziale di energia luminosa dal pigmento melanina nel follicolo pilifero si verifica quando appropriato lunghezze d'onda, fluenze e durate di impulso sono stati scelti.
2.diodo laser hair removal tecnologia adotta 808nm - [trova Golden Standard"per la rimozione dei capelli, che in particolare viene assorbita dal pigmento nel follicolo pilifero senza alcuna ferita del tessuto circostante
3.10-1400ms – lungo regolabile durate di impulso accoppiate con contatto zaffiro chill punta permette l'uso sicuro di superiore e fluenze più efficace per il trattamento per tutti i tipi di pelle, così promettono un trattamento efficace e veloce a tutti i tipi di pelle e capelli colori senza effetti collaterali come 755nm.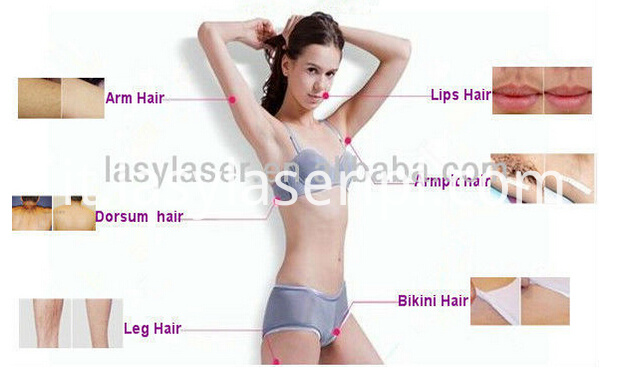 Cultura di Lasylaser:


Elenco prodotti : Laser a diodi 808nm